Get more out of your tech stack in 2023
| | |
| --- | --- |
| | When onboarding new technology, do you feel like it never fully gets rolled out or adopted? |
| | Is it difficult to expand use cases for technology across teams? |
| | |
| --- | --- |
| | Are you under pressure to deliver multi channel brand experiences, but don't know where to start? |
| | Are you challenged with proving the ROI of your technology at renewal time? |
When it comes to technology: the investment and onboarding of the tool is only the tip of a large, complex iceberg.
In our MarTech Masterclass series, we'll tap our talented technology partners and bring our own experience with our clients to the table to share use cases, examples, and real-life applications of how our best clients are making tech investments work for them.
We'll be bringing you bi-weekly articles, quarterly webinars, worksheets and tools, videos and more! So subscribe now to keep up with us all year long.
By registering, you authorize 3rd party affiliates to contact you in connection with related events, services and content.
Over the course of this series, we'll give you the tools to move to a much richer use of the technology you own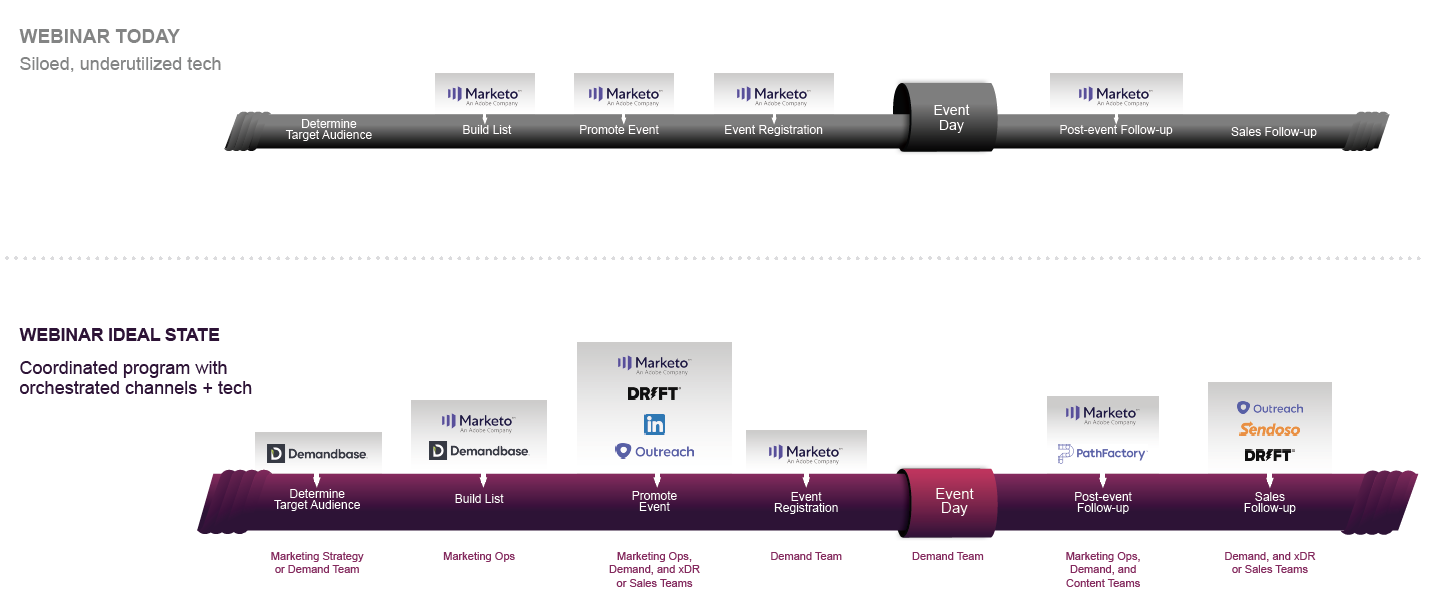 Articles and Webinars
[Article]

Why You Can't "Buy" a Marketing Strategy with Martech
It's true that martech can (and should) inform marketing strategy. But without a clear focus, martech can quickly create a splintered amalgamation of martech-based strategy and strategy-based martech that results in redundant tools, diminished ROI, and whack-a-mole marketing campaigns.
[Article]

Why Proving Martech ROI Shouldn't Happen Right Before Renewal
Proving martech ROI is something many marketers give little thought to, both before and after a purchase — until the renewal date creeps up on them. Once leadership starts asking for the ROI of the martech tool, proving ROI suddenly becomes much more important.
[Webinar]

How Martech Helped Put the Customer at the Center of Anaplan's Marketing
Put the customer at the center of your marketing. Sounds simple, doesn't it? But it can be quite challenging to accomplish because of headwinds the come in the alignment of people, processes, and technology. Join the expert crew from Anaplan as they walk you through their journey to customer-centricity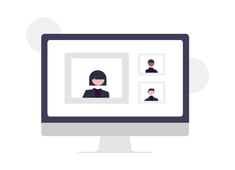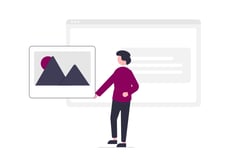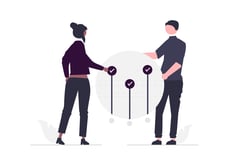 [Article]

How Use Cases Provide Structure for Your Martech
Have you ever bought a piece of martech for one feature, only to never expand its use beyond that? If so, you're not alone! Many marketers fall victim to the "shiny object syndrome" when it comes to buying technology. You can prevent this from happening by building multiple use cases for the technology, taking into account your existing technology and how they can work together to achieve your marketing objectives better than you can today.
[Article]

3 Real World Use Cases That Make the Most of Your Tech
Having a solid tech stack isn't enough to ensure your success. You need to know how to put it into action, including how it all works together. There is likely the "the way we've always done it" vs the "here's how we can do it better" conversation. And as we know, change is hard. So being able to articulate why it is worth the trouble to make the change is where use cases become so valuable.
[Article]

Adding Relevance to Your Campaigns with Personalization



Personalization goes beyond adding a customer's first name to a headline. Rather, it's about creating a completely unique experience that provides value to their specific use case. You have to define what personalization looks like for your audience, how much (or how little) to personalize, how to orchestrate your strategy across channels and how to gather valuable insights to improve your personalization.
Elevating the use of your Martech in 2023
Does this sound familiar? Your pipeline goal for 2023 has increased, but your budget, headcount and other resources have not.
We thought so.
The Martech Masterclass assembles the expertise of technologists, thought leaders and campaign strategists from our clients and tech partners. Together, we'll examine how tech can be an instrumental lever for doing more with less. We'll help to break down the barriers that you are facing and recommend important changes to make the most of the tech you have on board today.
Ready to kick off 2023 with a bang? Let's dive in.
How to move from siloed technology to an integrated ecosystem
Defining roles and responsibilities begins with breaking down the two kinds of MarTech councils that your business should have in place and the responsibilities that each should take on. Once you have your MarTech council and MarTech committee in place, you'll be in a better position to audit your technology, eliminate silos, and make the best use of the technology you already own.
MarTech Councils vs. Committees

Eliminate Silos in Your Tech Stack

Define Your MarTech Committee's Role



Stack Readiness: Audits, Integrations, & Roadmaps
When MarTech stacks are running as designed, they become coordinated ecosystems in which tech needs and customer desires influence one another in organic and productive ways. Fortunately, you can identify the common mistakes marketing organizations make so you know what to avoid, how to plan for a rigorous auditing process, and can build a roadmap for the future.
A Strategic Approach to MarTech Stacks

Why a Stack Audit is Necessary

Utilization vs Value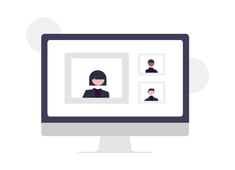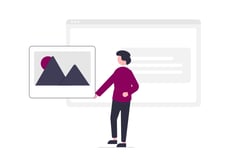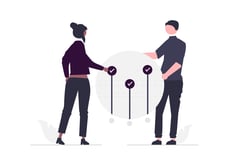 WEBINAR - Make 2023 The Year You Finally Get Your Tech Stack Working For You
Your organization has invested a lot in your tech stack, but you're not getting the results you would like to see out of it. Make 2023 the year you finally put your tech stack to work for you. In this webinar, we'll walk you through key aspects of planning, prepping and leveraging your tech stack:
The importance and role of a Martech Committee

Authoring a Charter to ensure alignment across the org

Conducting a tech audit to know what's all in your tool kit

Leveraging your tech vendors' expertise to support you

Building your Tech Roadmap for 2023
Enabling Teams & Managing Change to Realize Maximum Value from Your Tech Stack
Now that you've audited your processes and taken a look at the utilization and value of your tech, you are better prepared to make some changes to your MarTech strategies. You may even be interested in completing a full overhaul of your tech stack. Before launching a series of technology initiatives or corrective actions, the marketing leadership must understand the potential for each tool so that it can be communicated to all stakeholders.
Enabling Your Teams With a Strategic Vision

Setting Actionable Objectives

How to Manage a Stack Change Successfully
Need to Improve MarTech ROI? Leverage Your Tech Partners' Expertise
Despite being the crux of so many marketing activities, MarTech management takes on a surprisingly passive role in most marketing organizations. However, it doesn't have to (and shouldn't!) be that way. Marketers can take on a more proactive role in their MarTech management with one simple change: Involving their tech partner fully.
Actively Include Your Tech Partner

Share Your Complete Tech Stack to Make Use of Integrations

Use Your Tech Partner to Help You Gather Key Data


Inverta is a women-owned B2B firm comprised of experienced marketers who have built and delivered high-impact demand and revenue strategies for B2B brands. We partner with high-growth, mid-market and enterprise revenue teams to develop, design and activate strategies that accelerate demand, pipeline and revenue.

PathFactory is used by leading enterprise and mid-market B2B companies to accelerate nurture, improve win rates, and understand content performance by delivering intelligent content experiences across the buyer journey. Using insights and automation to connect people with content, PathFactory removes friction for B2B buyers.

Demandbase is the Smarter GTM™ company for B2B brands. They help marketing and sales teams overcome the disruptive data and technology fragmentation that inhibits insight and forces them to spam their prospects by injecting Account Intelligence into every step of the buyer journey, wherever you interact with customers, and by helping you orchestrate every action across systems and channels — through advertising, account-based experience, and sales motions.
Drift, the Conversation Cloud company, helps businesses connect with people at the right time, in the right place with the right conversation. Drift brings Conversational Marketing, Conversational Sales and Conversational Service into a single platform that integrates chat, email and video and powers personalized experiences with artificial intelligence (AI) at all stages of the customer journey.

Sendoso, the leading Sending Platform, helps companies stand out by giving them new ways to engage with customers throughout the buyer's journey. It's trackable, it's measurable, it's scalable and it offers a better marketing ROI. By integrating digital and physical sending strategies, companies can increase the effectiveness of their existing go-to-market programs and improve their relationships with customers.
Outreach is the leading sales execution platform that helps market-facing teams efficiently create and predictably close more pipeline. From prospecting to deal management to forecasting, our platform leverages automation and artificial intelligence to help revenue leaders increase efficiency and effectiveness of all go-to-market activities and personnel across the revenue cycle. Outreach is the only company to offer sales engagement, revenue intelligence, and revenue operations functionalities in a unified platform.